---
HAPPY NEW YEAR!

---

Reecia's team with Aveda guest artist Derek Hook learning new Aveda reds!

Meet Our Team
---
 We Have Another Winner!
The Reecia's Salon and Spa $75 NOVEMBER Gift Certificate Giveaway Winner is: ROBIN G.
But don't worry if you didn't win this one. You are automatically signed up for our next $75 Gift Certificate Giveaway, so you don't need to do a thing. If you haven't signed up yet, do it now please! Our JANUARY $75 Gift Certificate Giveaway will be presented on JANUARY 31ST, 2015.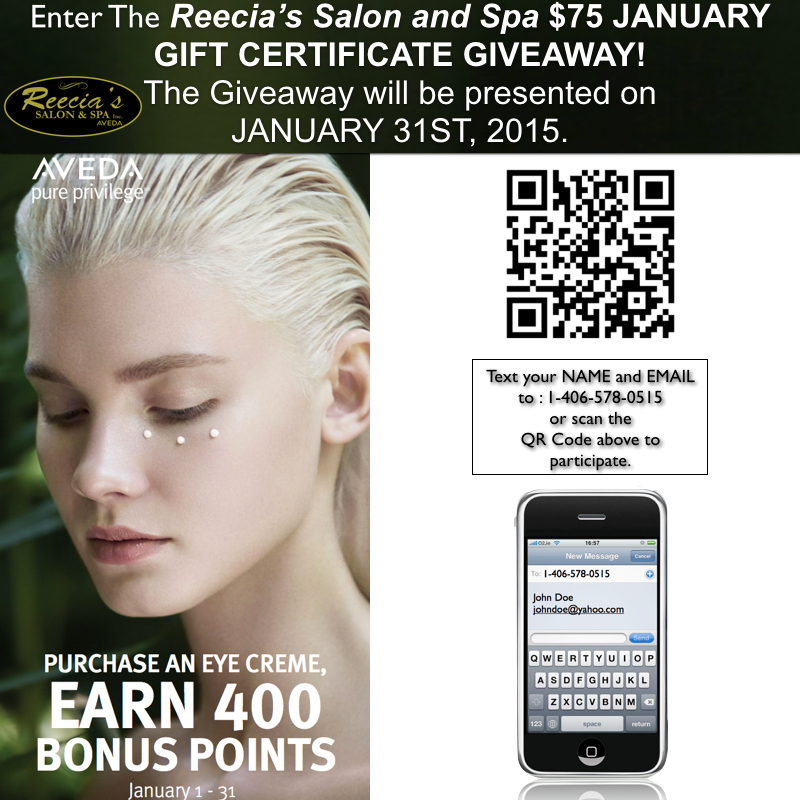 ---
 Start The Year 2015 Right!
Reduce Stress And Have A Massage
WITH JOHN ELLIS

Experts estimate that upwards of 90% of disease is stress related. Perhaps nothing ages us faster, internally and externally, than high stress. While eliminating anxiety and pressure altogether in this fast-paced world may be idealistic, massage can, and is clinically proven without a doubt, to help manage stress. Research continues to show enormous benefits of touch -which range from treating chronic diseases, neurological disorders, and injuries, to alleviating the tension of modern lifestyles, Consequently the medical community is actively embracing massage and working with one another for a positive and necessary piece of your health and wellness plan. Budgeting time and money for massage at consistent intervals is truly an investment in your health. Massage is very therapeutic.
Other benefits from massage therapy.
– Enhance immunity by stimulating lymph flow (the body's natural defense system.)
– Lessen depression and anxiety.
Comments